Author: Satish Velagapudi
DesignOps, short for Design Operations, is a set of practices and strategies aimed at optimizing and streamlining the design process within an organization. It focuses on establishing efficient workflows, improving collaboration, and enhancing the overall effectiveness of design teams. DesignOps is often implemented in companies that prioritize design as a core component of their product or service.

Key Aspects of DesignOps

Process and Workflow: DesignOps involves developing and refining design processes and workflows to ensure a smooth and efficient design operation. This includes defining clear design briefs, establishing design sprints, and creating a standardized framework for design iterations.


Tooling and Technology: DesignOps emphasizes the use of appropriate tools and technologies to support design teams. This may include design software, collaboration platforms, version control systems, prototyping tools, and project management software. DesignOps professionals assess the needs of the design team and implement the right tools to enhance productivity and collaboration.


Resource Management: DesignOps aims to optimize the allocation of design resources, such as designers, researchers, and developers, to ensure their skills and expertise are utilized effectively. It involves identifying skill gaps, managing workloads, and facilitating cross-functional collaboration between design and other departments.


Collaboration and Communication: Effective communication and collaboration are crucial for successful design operations. DesignOps promotes cross-functional collaboration by establishing channels for communication, facilitating knowledge sharing, and promoting a culture of transparency and feedback. This may involve conducting regular design reviews, design critiques, and facilitating collaboration with stakeholders.


Quality Assurance and Governance: DesignOps focuses on maintaining quality standards throughout the design process. It involves implementing design guidelines, establishing design systems and pattern libraries, and conducting design audits to ensure consistency and adherence to brand guidelines. DesignOps also includes defining metrics and key performance indicators (KPIs) to measure design performance and track progress.


Continuous Improvement: DesignOps promotes a culture of continuous improvement and learning. It involves regularly evaluating and refining design processes, gathering feedback from designers and stakeholders, and implementing iterative changes to optimize the design operation over time.



Process Workflow: Critical Success Factors for DesignOps as a Practice





Tools
• Adobe Creative Cloud, Figma, Invision, Sketch, Miro, Jira Software, Trello, Asana

Management & Governance
• Lean & Agile Methodologies
• Visual Project Management

Infrastructure
• Mac laptops with high-speed processors and graphic cards
• Licenses and Subscriptions
• Remote Workability

Headcount
• 1:15 'Design vs. Development'
• 1:1 'Design vs. Projects'
• Skills/Roles — Instructional Designer, UX Researcher, UX Writer, UX Designer, UI Designer, UX Architect, UX Strategist, DesignOps Manager

Design Pipeline
• Mining existing customers of all practices
• Invite-only design thinking workshops
• Mailer campaigns

Learning & Development
• Classroom Training
• UX Certifications
• Employee led workshops

Evangelization
• Organization needs to understand the value of design
• Influence with documented evidence of success
• Storytelling solutions with design at the heart of it

Building a Design-Centric Culture
At OSI Digital, we digitally transform customer and user experiences with DesignOps as a practice. By implementing DesignOps principles, organizations can improve the efficiency and effectiveness of their design teams, enhance collaboration between different stakeholders, and deliver high-quality design outputs. It helps bridge the gap between design and other functions within an organization, fostering a design-centric culture and driving innovation.

OSI Digital designs products and services that deliver distinctly better customer experiences. We look beyond point solutions and apply design thinking to the creation of new strategies, complex ecosystems, and — in some cases — entirely new businesses. We are leading our clients into the future by continuing to integrate new capabilities and platforms for strategic design like intelligent systems, virtual reality, artificial intelligence, and adaptive environments.
Be sure to look for experienced partners to help you to rapidly drive value through extraordinary customer experiences, powered by integrated technology, digital innovation, and design excellence.


In case you missed it, check out my last blogs:
Stay tuned for more insightful articles from Satish on how to accelerate software design strategies within your organization.
About S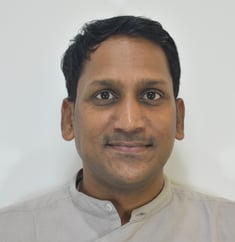 atish Velagapudi
Satish is a senior leader of product management, user experience, operations and solution engineering at OSI Digital. He brings proven know-how combined with technology, creativity and usability resulting in business road maps, execution plans and measurable outcomes for our customers. Satish is a certified product owner and Agile Coach with 20+ years of experience in exploring the intersections of technology and human behaviour with varied interests in Internet and mobile technologies, innovation & strategy for both public and private organizations.