Author: Satish Velagapudi
Engineers with a design mindset are key to extraordinary customer experiences. A new mandate for comprehensive and continuous digital experiences has put a spotlight on designing products that meet customers' expanding demands. Embedding customer experience into products and design is more important than ever in the current market landscape.

Typical experience design engineering services include: idea to market, user experience strategy, platform and solution management transformation, and platform and solution design and delivery. Attitude is everything when it comes to visual or user experience design of a product or a service. Here are some tips on how to succeed in the experience design engineering field for your organization and clients.
Be Inquisitive: Be genuinely interested in learning and knowing new things. Pay attention to the details and respectfully ask why. Avoid becoming irrelevant.

Be Prepared to fail: You may not hit the bullseye the first time. If at first you don't succeed, try and try again and don't be too married to your design vision. Adaptability is key!

Be Organized: Be sure to write down your thoughts and plans, prioritize your activities, and maintain a clear task list.

Be Vigilant: Designers tend to complicate the journey sometimes by mere overthinking choices such as beauty over usability. At the end of the day, aesthetics is important but function is king.

Be Honest: The more a designer is honest about the problems to solve, the more the requirements become clear leading to better design experiences. Be fearless and do not stay in the safe zone because that's where creativity dies.

Be Aware: Trends come and go but design movements leave a lasting impact. Be able to differentiate between a real movement and a passing fad. Have conversations with other designers and stay on top of the latest insights.

Remember to adhere to timelines: Yes, design is an art and designers can get moody like any true artist. Always remember that other people's deliverable also depend on you.

Accept that change is constant: Whether it's design tools, customer expectations, or your favorite team, things will change. Move with it and adapt.
Meeting Customer Expectations With Design
It's also important to involve your clients in the design process and treat the relationship like a true partnership. Here are a few ways to do this successfully:
Start by capturing the executive intent and end user goals.

Involve your client in the design process from the beginning and treat the relationship like a true partnership and collaboration

Meet frequently and listen closely to build empathy and discover useful information that didn't make it into the brief

Convert the listening into mental modals and visual artifacts

Leverage storytelling as you develop a design solution and use a clickable prototype

Conduct a user satisfaction survey to collect feedback and adapt your design based on that feedback

Do a UX inspection post-development and keep your client informed at every stage

Commit to continuously improving your design deliverable and stay relevant and aligned to your clients top business priorities



Work With Design Engineering Experts
OSI Digital designs products and services that deliver distinctly better customer experiences. We look beyond point solutions and apply design thinking to the creation of new strategies, complex ecosystems, and — in some cases — entirely new businesses. We are leading our clients into the future by continuing to integrate new capabilities and platforms for strategic design like intelligent systems, virtual reality, artificial intelligence, and adaptive environments.
Be sure to look for experienced partners to help you to rapidly drive value through extraordinary customer experiences, powered by integrated technology, digital innovation, and design excellence.
In case you missed it, check out my last blog:

Stay tuned for more insightful articles from Satish on how to accelerate software design strategies within your organization.
About S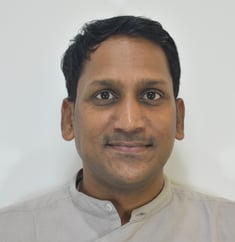 atish Velagapudi
Satish is a senior leader of product management, user experience, operations and solution engineering at OSI Digital. He brings proven know-how combined with technology, creativity and usability resulting in business road maps, execution plans and measurable outcomes for our customers. Satish is a certified product owner and Agile Coach with 20+ years of exploring the intersections of technology and human behaviour with varied interests in Internet and mobile technologies, innovation & strategy for both public and private organizations.