.Author: Diby Mukherjee
Every organization running on-prem systems today feels that there's an inevitability about migrating to the cloud. Every organization should also have a strategy that accounts for it.
While that much is clear, the process of actually developing one is anything but. Industry executives often struggle with the questions of when, why, and how to move their systems to the cloud.
These questions can get complex quickly:
Should we migrate to the cloud at all?
Should all systems be moved to the cloud, or is a hybrid approach most appropriate?
If a hybrid approach is best, which systems should stay on-prem, and how do we ensure sufficient security, data transfer rates, and performance?
I'd like to help guide you through these questions.
Weighing the Benefits of Cloud Migration
As a starting point, your organization's default strategy should be to migrate to the cloud unless there are compelling reasons to not. The benefits of migrating — a lower total cost of ownership, easier manageability, and increased collaboration efficiency — are well-established and too important to pass up. However, too many options, huge ramifications, and uncertain risks often result in a form of decision paralysis, usually to the organization's detriment.
When it comes to designing cloud strategies, what's good for the goose isn't necessarily good for the gander. Every organization has its own priorities and application mix, and these need to be accounted for in the development of any strategy. For instance, a manufacturer's eMES system — a critical application that enables them to monitor their production by the minute — may not be a good candidate for the cloud. However, certain applications that communicate with their eMES may be. Your strategy needs to tease out all of the nuances and idiosyncrasies related to the organization's particular process and application landscape.
Here's how you can move forward amid such complexity and uncertainty to get started today:
Develop a cloud strategy: Like formulating any other strategy, begin with a vision of the state you want to achieve at a certain point in the future. It's critical that this state is articulated in terms of business and collaboration metrics and not in terms of an ideal cloud-based application mix. An example could be that you want cloud-based collaboration with 70% of your suppliers or automation of 90% of customer shipment information-sharing two years from now. Whatever vision your strategy articulates will be what anchors the rest of the planning and strategy execution.
Develop an app portfolio: The next task is to map your application portfolio according to business value and security needs and list any performance gaps that may exist between on-prem and cloud versions. A cost-benefit analysis of moving to the cloud should also be done for each application in your portfolio. This analysis will help put each application into the context of the overarching cloud strategy and will be one of the factors in your migration decision.
Develop a clear roadmap: Once you have an account of which applications can be moved to the cloud, determine the sequence in which they should be migrated, and how would you intend to manage the integrations.
This planning provides a methodical way to reduce complexity and can provide the confidence to begin moving forward in a coherent manner.
Of course, the strategy only provides the map. Execution of that strategy is just as important as its formulation. Once an organization starts migrating applications to the cloud, secure and scalable integration becomes a critical business component, especially for those that opt for a hybrid environment.
If you're ready to develop a cloud strategy and have been hesitating – simply due to the complexity of the task – selecting the right partner is critical for success. At OSI Digital, we understand the benefits and drawbacks of remaining on-prem and operating in the cloud, and we're happy to help walk through the entire process with you. Learn more about our Business Application solutions.
With a strategy that combines the principles and the specifics of your organization, you'll be able to reap the benefits of moving to the cloud. You will maintain confidence in the security and functionality of your applications, and achieve a business and collaboration vision that will manifest as better operations and increased competitive advantage.
Related Resources: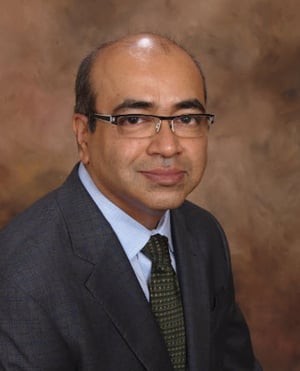 Diby Mukherjee, Practice Leader, Business Applications

Diby works closely with customers that use Oracle's e-Business Suite (EBS) of products. He brings extensive experience with EBS implementations, upgrades, enhancements, and application process improvements across a range of industries that include industrial manufacturing and bio-technology. Diby's highest priority is efficient execution with a focus on delivering tangible business results for our customers.