Author: Kanishk Prasad
Companies often focus on the same several factors to asses organizational strategies: the metrics for revenue enhancements, cost optimization, customer satisfaction and employee retention.
These KPIs are important however, in my seventeen years of IT experience, I've realized that an often-overlooked factor that determines an organization's strategic success is the available time of its people.
Available time is an understated and under-recognized asset of an organization's employees that more often isn't effectively prioritized due to its less apparent ROI compared to other metrics. Even though the effects aren't able to be quantified, this does not take away from the impact this metric has on the ongoing systems needed to carry out an organization's vision.
The Inherent Value of Available Time
Available time is an asset that, if left unmanaged, will decrease with the increasing workload for an employee. The effect of a lack of available time will be felt in the individual's performance and ripple throughout the organization. The good news is, available time of an employee can be promoted, managed and translated into several benefits:

Time for an employee to de-stress
Keep up-to-date and learn new skills
Brainstorming on new market developments in his/her domain
Becoming a contributor who enhances the company's innovation
These benefits might not have a trackable ROI, but their long-term benefits for the company are priceless.
Incorporating Available Time into An Employee's Schedule
First, identify what responsibilities an employee has that is more or less mechanical in nature (a defined set of repetitive actions). You may need to reflect on past responsibilities or assess future projects they'll be working on. Then determine how often does your employee engage in these responsibilities? Determine how much time is spent on the activity in one day. The amount of time your employee spends on these responsibilities is precious time wasted that could be allocated for available time. A minimum of thirty-minutes a day is needed for effectiveness.
The next step is to automate these responsibilities as much as possible. There's no need for your employee to spend their time on repetitive duties. Determine what means are necessary for automation and decide if you can accomplish this work in-house or if it needs to be outsourced. Professionals who can assist you with your specific automation needs will reach out with solutions tailored to your organizational requirements.
The Benefits
As already pointed out, additional time during the day can be utilized effectively for professional growth, mental health management, collaboration, and networking. Structuring available time (for all employees) in an effective manner allows your company to invest in organizational growth. This newly allocated time in your employee's schedules will lead to innovation and productivity that will help reach the organization's mission.
By automating tasks that were manually completed before, the organization will work in a more stream-lined, innovative manner that will create an edge for your company's employees. Small changes lead to big impacts across the company and the field of business organization. Your company will be able to invest more time into customer interactions, UX, and turnaround time on projects and products.
This kind of innovative change won't happen unless companies prioritize and promote their employee's available time with company-wide messaging and guidance. Leave the repetitive work to automation experts and create an environment for your employees to focus on work that helps achieve your organization's mission.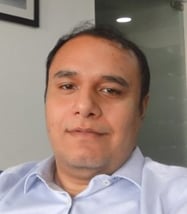 Kanishk Prasad, Practice Director at OSI Digital
Kanishk Prasad manages OSI Digital's consulting services on Salesforce, Microsoft, RPA, ZOHO and voice conversational platforms. With a keen interest and passion for the latest digital trends, Kanishk focuses on integrating and aggregating technologies to explore new avenues of enhanced UX and cost-optimized solution offerings.