Author: Manoj Devireddy
In today's digital world, adopting a cloud-first strategy is no longer a consideration, rather it's key to survival for modern businesses.
According to Gartner, enterprise IT spending for cloud-based offerings will grow faster than traditional (non-cloud) IT offerings through 2022. By 2022, the cloud shift across key enterprise IT markets will increase to 28%, up from 19% in 2018. It's clear that organizations without a cloud-first strategy will quickly fall behind their competitors.
The Benefits of the Cloud Shift
A cloud-first strategy is all about utilizing shared infrastructure and operations rather than building and hosting your own private storage facility and systems. Today, executives across all industries, sizes and geographic locations are recognizing the numerous advantages of cloud computing for their business. Adopting a cloud-first strategy comes with many benefits that are worth considering including the following:
Less Hardware:

Many companies now have to spend less money on maintaining their hardware. Whether your company requires more hardware space or needs to scale down, a cloud-first strategy provides the flexibility to pay according to the fluctuating needs of your company.
Improved Scalability:

As your business grows, your data volume increases exponentially and therefore the need for scaling up quickly arises. When your data and applications are managed internally, scaling-up often becomes complicated, costly and time-consuming. A cloud-first strategy provides the opportunity to scale as needed without adding additional burden to your IT resources.
Higher Cost-Savings:

Another benefit of switching to the cloud is that the cost of maintenance is built into the contracts with service providers, therefore reducing the need to maintain in-house support staff for any emergency. Also, the infrastructure is handled by high-level professionals from the service provider, which is more beneficial for small-mid-sized companies and start-ups.
Advanced Mobility:

As cloud service providers offer mobile applications for all devices, it's easier to work on the go. With an Internet connection in place, teams can collaborate at any time, anywhere. With this increased mobility, companies can now offer flexible working hours to their employees without impacting business productivity and performance.
Increased Security & Recovery:

An effective cloud-first strategy provides greater control over your data security. As the data is stored in the cloud, it can be accessed 24/7 regardless of what happens to the device. To resolve any security issues or to recover data in the case of any natural disaster or data theft, companies can now have access to the service provider's expert security team and data recovery solutions.
Modernize Your IT Infrastructure
At OSI Digital, we offer the insights, analysis, and roadmaps necessary to bring 24/7 capabilities that modernize your IT infrastructure, operations, and managed services while lowering costs and reducing risk. Whether on-premise or in the cloud, our infrastructure strategy & planning, and architecture design services will optimize your IT investments and environments to meet your business objectives. If you are still unsure if moving to the cloud is right for you, talk to the experts at OSI Digital.
Related Resources: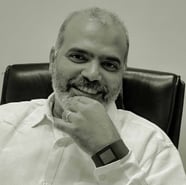 Manoj Devireddy, Senior Vice-President, Enterprise Technologies
Manoj is a solutions-driven strategic business and technology leader with over 20+ years of experience in managing technology and functional consultants both onshore and offshore. He is experienced in overseeing the full lifecycle development and implementation of enterprise-level ERP, CRM and custom applications and infrastructure enhancements.
In today's digital world, adopting a cloud-first strategy is no longer a consideration, rather it's key to survival for modern businesses.