OSI Digital is proud to be a sponsor of the Tableau Conference which brings together data experts from around the world, from November 12-15 in Las Vegas.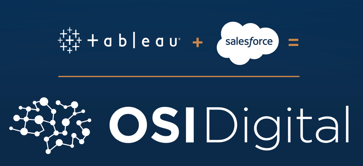 Tableau + Salesforce = OSI Digital
Along with being a Tableau Gold Partner, OSI Digital is also a Salesforce Gold Partner specializing in the delivery of Salesforce cloud solutions such as Salesforce Marketing Cloud, Salesforce Sales Cloud, Salesforce Service Cloud, and Salesforce Community Cloud. OSI Digital's combined Tableau + Salesforce expertise continues to strengthen our ability to help customers seamlessly navigate their digital transformation journey. Our conference theme this year is: Proven expertise to help you unlock the combined power of Tableau + Salesforce. We are only one of a few companies that can stand firmly behind this tagline.
Data Analytics Solutions to Optimize Performance
OSI Digital provides a full spectrum of Data Analytics solutions including deep experience and expertise in the implementation and deployment of Tableau + Salesforce products. OSI's data analytics capabilities include: data management, visual data analytics, data warehousing, data architecture, advanced analytics, embedded analytics and performance management.
See for Yourself: Stop by Booth #531
Come visit our booth to take in a demo, meet the team and learn more about our extensive experience in Tableau + Salesforce, Embedded Analytics, Security, Cloud Architecture and much more. You'll find us at Booth #531 in the Data Village - the heart of the Tableau Conference.
See You In Las Vegas!
We look forward to showing you how to fully leverage the combined value of Tableau + Salesforce to uncover powerful business insights, elevate operational efficiency, create superior customer experiences, and drive new revenue streams for your business.